From The Red Carpet To Hospital Hallways: Miami Fashion Designer René Ruiz Designs Transplant Recovery Gowns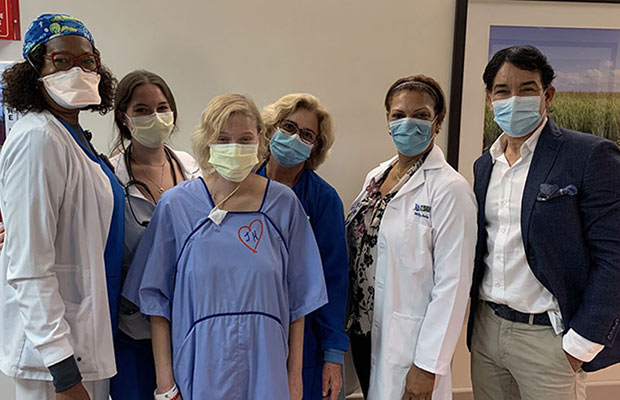 Patients at Jackson Memorial Hospital's Miami Transplant Institute first in nation to receive custom-made hospital gowns
For more than two decades, Miami fashion designer René Ruiz has designed glamorous gowns that have been worn by celebrities and well-known public figures at red carpet events, galas, and runway shows. Each gown Ruiz makes is designed with the individual in mind with touches inspired by Miami's rich culture that have been represented in the fashion industry worldwide.
A few years ago, Ruiz began dedicating more time to philanthropy, giving back to the community that has helped grow his brand RENÉ BY RR.
That concept was later solidified following an encounter at a local charity event where he met Matthew Pinzur, chief marketing officer at Jackson Health System. The two discussed a collaboration that would allow Ruiz to use his fashion insight to create gowns of a different kind: custom-made hospital gowns for transplant patients recovering from complex surgeries.
Over the course of several months, Ruiz met with representatives from the Miami Transplant Institute (MTI), Jackson leadership, transplant nurses, and post-transplant patients. He learned about their experiences and listened to their recommendations on what it would take to transform a standard hospital gown into a more practical, comfortable gown for this patient population. Among the suggestions was adding snaps and slits in appropriate locations, allowing easier access for the medical teams to check surgical incisions and equipment, such as drains and heart monitors.
Ruiz took all of these suggestions to the drawing board and started designing. He researched fabrics that would be comfortable and easily laundered. The result: a denim-blue hospital gown with convenient button snaps and slits. The Miami Transplant Institute team welcomed the change, as did patients of all ages, saying the custom gowns – emblazoned with a JH for Jackson Health inside of Rene Ruiz's signature red heart icon – are more comfortable and dignified than the standard hospital gown.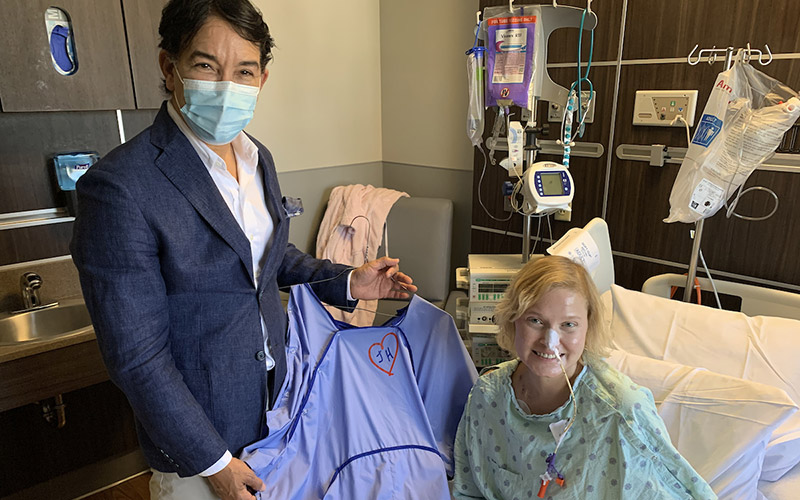 "The transplant recovery gown is very utilitarian, it has inside pockets, special button holes for the lines to go in and out," said Ruiz. "Not only is it going to make the patient's life while they are recovering easier, but also the nurses and medical staff that work on the transplant patients."

For this new venture, Ruiz chose Goodwill Industries of South Florida to manufacture the gowns. Staying true to his goal of giving back to the community, he admires Goodwill's mission of providing hope and job opportunities to people with disabilities and, because he had previously partnered with them for other projects, he knew their work was high quality.

The first gowns were delivered to Jackson Memorial Hospital on June 3, 2021. As a surprise to patients and medical staff alike, Ruiz came in-person to see his design come to life.
"When I witnessed the first patient wearing my design, it was an amazing moment – one of the highlights of my life," said Ruiz. "It's been an amazing project for me, this is so fulfilling. What could be better?"
To date, more than 4,000 gowns have been delivered to Jackson Memorial. For now, the gowns are being used exclusively for MTI's post-transplant patients.
Renowned fashion designer Rene Ruiz supports Jackson Health System's mission through philanthropy. To find out how you can also become a supporter on projects like these at Jackson, contact the Jackson Health Foundation today at 305-585-GIVE (4483).